My Mother is a rather crafty person, I must say. She has tons of ideas and while I'm not always as enthusiastic about some of them as she is, I think these rustic ornaments she came up with are pretty darn cool. They're entirely handmade and each one is unique. She used the wood from a felled oak tree out in the pasture and then burned all sorts of cabin-esque icons into them along with some Christmasy stuff
.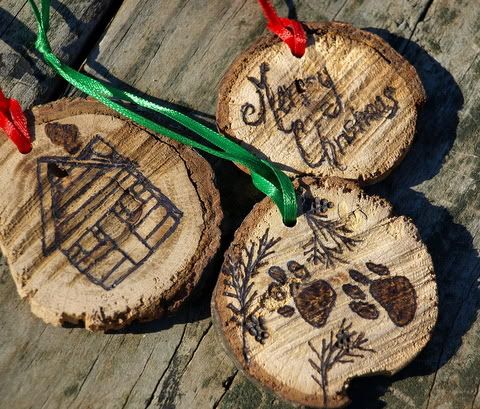 I think you could leave these out all year long if you wanted to...well, maybe not one that says 'Noel', but the cabins and bear tracks- why not? If you'd like to see them, I've listed some sets on
ebay
. Just click on the photos or search under the seller id:
christys_critters
. And while you're over on the old ebay engine, be sure and check out some of my ornaments you won't find in my store like this little Cavalier King Charles Spaniel
!